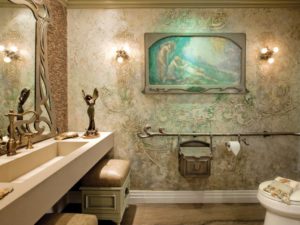 When you walk into your bathroom, do you feel it is an area that you wish you could avoid visiting or do you feel the troubles of the day melting away? Some people go into the bathroom and feel that to spend any more time in there than necessary is a waste of time. They are unhappy with the room. Those same people could enjoy it a little more if they would consider using art to create a bathroom oasis.
Creating an Oasis in the Bathroom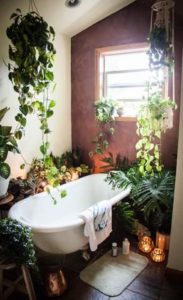 The bathroom is an area of our home that is used because nature says that we need to take care of certain things. These mandatory bathroom items are not the most glamorous. They include toilets, sinks, and showers. Tubs are in some bathrooms, but not all and some have tubs but no shower. They are serviceable items. Luckily, there are a lot of ways you can go about creating an oasis in the bathroom if you are willing to get creative. Most of the ideas do not have to cost a small fortune. You can use paintings, plants, and a variety of other small items to create a spa within your own bathroom.
The Art You Love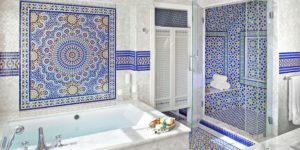 Green plants are a perfect decor for the bathroom. They make the room feel more spacious, which is great for smaller sized bathrooms. To compliment the plant life, you may also want to consider adding photos. Pictures of women dressed in fancy clothing, kids being kids, seashells and ocean views, and many other types of paintings will look great in your bathroom. If you like the idea of beach-y bathroom decor, you can add real seashells in vases or set randomly on shelves. You may also consider adding fun quotes to the walls to give yourself and your guests something to enjoy or chuckle over. There are also ways to upgrade the "facilities". You can do this by adding new faucets in complimenting colors or finding a new toilet that makes your bathroom function more efficiently. You can easily find the best dual flush toilet reviews on Toilet Review Guide and find one that will fit your budget.
More Extreme Makeovers
A lot of spa bathrooms have tiles on the walls that mimic rocks and stones. This goes along well with the idea of green plants since it can give the bathroom the feel of being outdoors instead of in the smallest room of your home. There are also people who have frosted windows, large mirrors, and other features in their bathroom. These things can increase the natural light in your bathroom. If you do not already have a window, you can create an imitation one near your tub and paint an outdoorsy scene on the glass panes. This can make it as though you have a window and make the room feel spacious. The truth is, your creativity is your only limit in the bathroom. You can create anything you want within this room. Are you ready to see what you can turn your rest room into?